Stages
Produits
Un produit naturel Etonnant !
Ultra riche,
Source de Bien Être.








Disques

Beyond - Buddhist and christian prayers
Par Tina Turner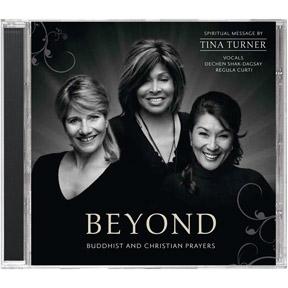 Un grand projet musical réunissant trois chanteuses hors du commun : Dechen Shak-Dagsay, Regula Curti et aussi la célèbre Tina Turner.

Tina Turner chante avec la tibétaine Dechen Shak-Dagsay et la suisse Regula Curti des mélodies chrétiennes et bouddhistes
Un CD totalement dédié à la spiritualité. Les voix se mêlent magnifiquement.
Vous pouvez prendre part, rejoindre ces prières et avancer vers la paix intérieure et la compassion, afin de les incarner dans le quotidien.

Un CD salué par le Dalai Lama.

15 titres
1. Beyond
2.Connecting hearts
3. Sound of mystic law
4. Interlude
5. Holy praise
6. Heavenly Joy
7. Healing power
8. Embracing Wisdom
9. Compassionate love
10. Interlude
11. Purity of mind
12..Dance with the divine
13. Power of forgiveness
14. Interlude
15. Devotion
Commentaires
Beyond, Spiritual Message - Tina Turner inspired by Deepak Chopra and Rumi
Nothing lasts forever, no one lives forever, the flower that fades and dies, winter passes and spring comes, embrace the cycle of life: that is the greatest love. GO BEYOND FEAR Beyond fear takes you into the place where love grows, when you refuse to follow the impulses of fear, anger and revenge. BEYOND MEANS TO FEEL YOURSELF Start every day singing like the birds – singing takes you beyond, beyond, beyond, beyond We need a repeated discipline, a genuine training to let go our old habits of mind and to find and sustain a new way of seeing. GO BEYOND THE RIGHTS AND THE WRONGS Prayer clears the head and brings back peace to the soul. GO BEYOND TO FEEL THE O.N.E.NESS OF THE UNITY Sing–singing takes you beyond, beyond, beyond, beyond We are all the same, all the same, looking to find our way back to the source, to the ONE, to the only ONE. GO BEYOND REVENGE The greatest moment in our lives is when we allow us to teach each other. GO BEYOND TO FEEL THE O.N.E.NESS OF THE UNITY Sing – singing takes you beyond, beyond, beyond, beyond TAKE THE JOURNEY INSIDE OF YOU To become quiet to hear the beyond. To become patient to receive the beyond. To become open to invite the beyond and be grateful to allow the beyond. Be in the present moment to live in the beyond. Start every day singing like the birds–singing takes you beyond, beyond, beyond, beyond WHAT DOES LOVE HAVE TO DO WITH IT? LOVE grows when you trust. When you trust LOVE heals and renews. LOVE inspires and empowers us to do great things and makes us a better person to love. LOVE makes us feel safe and brings us closer to GOD. When you go beyond that's where you find true love. Keep singing – singing takes you beyond, beyond, beyond, beyond TINA TURNER INSPIRED BY DEEPAK CHOPRA AND RUMI



" Nous faisons l'expérience de l'immense pouvoir de la spiritualité profonde chaque fois que nous chantons ensemble, bien que chacune prie pleinement selon sa propre tradition. 
 
 Avec ce CD, nous souhaitons partager l'expérience merveilleuse qui permet de toucher le cœur, de vivre un grand sentiment d'unité avec le plus grand nombre possible de personnes. Nous encourageons les gens à travers le monde à chanter chaque jour des prières. Le chant vous porte dans un espace où l'amour et la compassion se développe.



DECHEN
is a native Tibetan Mantra singer whose family has settled down in Switzerland in1963. She strongly feels the rich culture of her Tibetan roots, which cultivates the values of love,compassion and wisdom. Dechen feels blessed to touch people's hearts with her voice and transmit the message of peace wherever she can.



REGULA i

s Founder and Managing Director of The Center of Therapy & Education SESCHAU, The House of Resounding Emptiness in Zurich (Switzerland).

She is a music therapist, singer and Kundalini Yoga teacher taught by Yogi Bhajan. Her work is dedicated to people who are searching for their roots through music and singing. Her deepest wish is to guide people on their way to personal truth and inner strength.
Durée : 71:12 mn
Pour acheter ce produit dans notre boutique, cliquez ici.
Rubriques

Accueil

Services
-Creéz votre page sur Naturosanté
- Les pages des membres de Naturosanté
- Annuaire des praticiens de médecines alternatives
- Archives lettre d'information
- Annoncer un stage

Boutiques
-Audiocaments en téléchargement
- Naturosanté Boutique

Infos
- Troubles de santé
- Alimentation
- Bien-être - Beauté
- Hygiène
- Psychologie
- Recettes diététiques
- Jardinage biologique
- Livres
- Livres audio
- Disques
- DVD
- Jeux

Chroniques
- Homeophyto.com
- Daniel André
- arc-energie - Michel
Larroche
- Michele Freud
- Sylvie Mioso
- L'Ayurvda, L'Art d'Etre
D. S. GUINOT
- Lymphoénergie

Evènements
- Stages
- Salons, concerts, conférences, ateliers

Dossiers
Sujets d'actualité

Magazines
Magazines au numéro

Echanges
- Coups de gueule
- Témoignages